Vaccine & Microchip Clinic
Services & Prices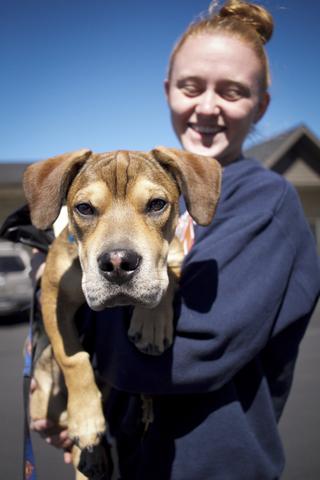 Bend Spay + Neuter offers vaccinations, deworming, FELV/FIV testing, microchip placement and Deschutes County Dog Licenses from 9am to 2pm every Saturday at our walk-in vaccine and microchip clinic. Pets are seen on a first come, first served basis.
Please bring your pet's most recent vaccination history with you so that our staff can determine what your pet needs. See the descriptions below for further information on individual vaccines.
COVID-19 Protocols
All pet owners are

required to wear a face mask

at all times when interacting with BSN staff. We will be unable to serve you and your pet if you decline to wear a face mask. 
Physical distancing of at least 6 feet between pet owners and between BSN staff
Curbside appointments

A BSN staff member will come to your vehicle to discuss what services your pet needs
A staff member will take your pet inside for his/her exam, vaccines & other services
A staff member will bring your pet back to you and discuss any significant findings or recommendations from the veterinarian
E-Payments – we ask that you use our new e-payment feature if at all possible to limit contact. An email can be sent to you to collect e-payment during your appointment if you are able to pay this way.
Please note: Our vaccine clinic is for healthy pets only. If your animal needs medical attention for any other reason than the services listed above please see your regular veterinarian. If your pet is experiencing a medical emergency, please call your regular veterinarian or the Bend Veterinary Specialty & Emergency Clinic at 541-385-9110.
SERVICES & PRICING
Download our Vaccine Clinic price sheet here
Exam

$

10
A brief exam with our BSN veterinarian is required to determine if your pet is healthy enough to receive vaccines or other services
Vaccinations – Dogs
Rabies                 
$20
Legally required for ALL dogs and mandatory for dog licensing
DAPP

$

20

Distemper, adenovirus, parainfluenza & parvovirus

Recommended for ALL dogs

Leptospira

$

20
Recommended for most dogs in Central Oregon who enjoy the outdoors and may swim or drink from lakes or streams or come into contact with wildlife or livestock
DAPP/Lepto

$

20

Combo vaccine of DAPP & Leptospira

For dogs that need DAPP & Leptospira vaccination

Bordetella/Parainfluenza

$

20

Respiratory vaccine

Recommended for dogs that go to dog parks, doggie daycare, boarding kennels, dog shows, groomers and anywhere else there are a lot of dogs
Vaccinations – Cats
Rabies

$

20
Recommended for ALL cats
FVRCP (HCP)

$

20

Feline panleukopenia, herpesvirus-1 & calicivirus

Recommended for ALL cats

FeLV

$

25

Feline leukemia virus

Recommended for all outdoor cats

Must have proof of a negative Leukemia test prior to vaccination
Other Services
Microchip placement

$

25
 
Dewormer

$

5

Pyrantel for dogs

Revolution for cats

FeLV/FIV Test (cats only)

$

35
Must have proof of a negative Leukemia test prior to vaccination

Deschutes County License

(dogs only)

$16

$30

Altered (spayed/neutered) dogs

Unaltered dogs

Proof of rabies vaccination required

Only new Deschutes County licenses can be issued. For renewals, please visit the Humane Society of Central Oregon or the Deschutes County licensing office.
Our Locations
Newsletter
Sign up to get HSCO news and updates delivered straight to your inbox.