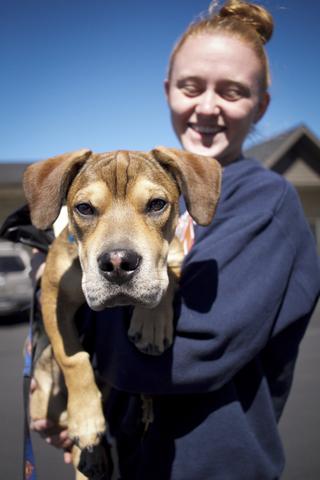 The Bend Spay and Neuter Program offers vaccinations, deworming, and microchips from 10:00 am to 1:30 pm every Saturday at our walk-in wellness clinic. No appointments necessary, first come first served. You MUST sign in on the clipboard upon arrival in order to secure your spot.
There is a $10 office visit fee per patient for Saturday Wellness visits. Payment is due IN FULL at time of service.
Please note:
We no longer offer nail trims at our wellness clinic**
We do not provide health certificates for flights or endorse emotional support animals.**
We do not fill prescriptions or provide other medical services at our wellness clinics – we only provide the services listed below. If your animal needs medical attention or is having an emergency, please call your vet or an emergency clinic.
There is a $10 office visit fee per patient for Saturday Wellness Services.
It is always helpful to bring your pet's previous vaccination records with you so that our staff can determine which vaccinations are needed and / or can be given. If you do not have a copy of your pet's records, please call our clinic or your regular veterinarian for these items.
Our Locations
Bend Spay & Neuter Clinic:
910 SE Wilson, Ste A1
Bend, Oregon 97702
541/617-1010
Tues: 8am to 4pm (Admin only)
Surgery:
Wednesday: 7:30am to 5pm
Thursday: 7:30am to 5pm
Friday: 7:30am to 5pm
Wellness:
Saturday Clinics Currently Closed
Closed Sunday & Monday
HSCO Shelter:
61170 S.E. 27th St.
Bend, OR 97702
541/382-3537
Open M-F 10am-5:30pm
Saturday 10am-5pm
Closed Sundays & major holidays
HSCO Thrift Store:
61220 S. Highway 97
Bend, OR 97702
541/329-7637
Open Every Day. 10am-6pm
Donations Accepted:
Mon., Wed., Fri. Noon-4pm
Schedule a Furniture Pickup
Newsletter
Dogs:
Vaccines:
DHPP: $20 – (distemper, parainfluenza, hepatitis, parvovirus)
Rabies: $20 – DHPP and Rabies vaccinations are recommended for ALL dogs.
Bordetella: $20 – (kennel cough) This vaccine is recommended for dogs who are taken to kennels, groomed, use doggie daycare or frequent the dog park.
Other:
E-Collar: $10 (can be returned for $5 refund)
Red Dingo Engraved Pet Tag: $12 (lifetime warranty!) 
County License: $16 for altered (fixed) dogs, $30 (unfixed) for unaltered dogs. Proof of rabies required.
Microchip: $25
Deworming: $5
Cats:
Vaccines:
FVRCP: $20 – (feline rhinotracheitis, calicivirus, panleukopenia) Recommended for ALL cats.
FeLV: $20 – (Feline Leukemia) (Recommended for outdoor cats, must be tested for Leukemia prior to vaccination).
Rabies: $20 – Recommended for all cats, but especially outdoor cats.
Other:
FIV/Felv Combo Test: $30 – required for feline Leukemia vaccination
Cardboard Cat Carrier: $5 – it is required that all cats go home in a safe carrier
Soft E-Collar: $10 
Microchip: $25
Deworming: $5
Our Locations
Bend Spay & Neuter Clinic:
910 SE Wilson, Ste A1
Bend, Oregon 97702
541/617-1010
Tues: 8am to 4pm (Admin only)
Surgery:
Wednesday: 7:30am to 5pm
Thursday: 7:30am to 5pm
Friday: 7:30am to 5pm
Wellness:
Saturday: 10am to 1:30pm
Closed Sunday & Monday
HSCO Shelter:
61170 S.E. 27th St.
Bend, OR 97702
541/382-3537
Open M-F 10am-5:30pm
Saturday 10am-5pm
Closed Sundays & major holidays
HSCO Thrift Store:
61220 S. Highway 97
Bend, OR 97702
541/329-7637
Open M-Sat. 10am-7pm
Sunday 10am-6pm
Donations Accepted:
Mon.-Sat. 10am-6pm
Sunday 10am-5pm
Schedule a Furniture Pickup
Newsletter