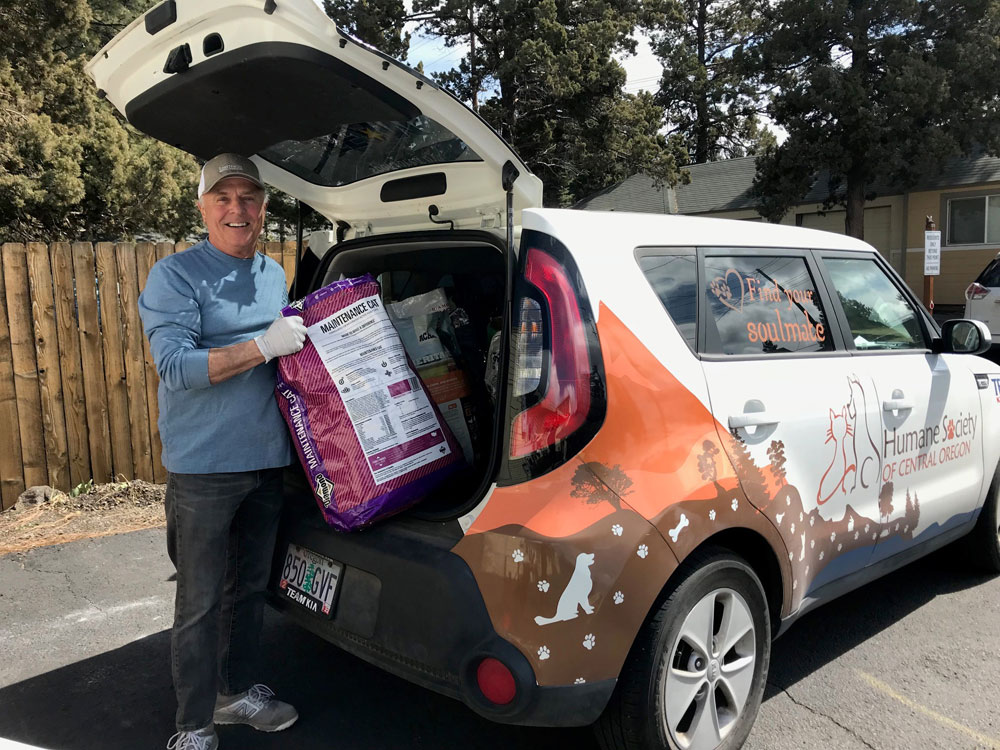 In an effort to keep people and their pets together, HOPE Food Bank has responded to the COVID-19 crisis by expanding our reach. HOPE Pet Food is now being distributed through human meal and food bank sites to provide easy access.
Local Food Banks and Meal Sites with Pet Food During Normal Hours per location:
Saint Vincent De Paul in Bend (950 SE 3rd St # B, Bend 97702)
The Giving Plate (1245 SE 3rd St C7, Bend 97702)
Family Kitchen (231 NW Idaho Ave, Bend 97703)
Westside Church Free Food Market (2051 NW Shevlin Park Rd, Bend 97703)
Foundry Church (60 NW Oregon Ave, Bend 97701)
Nativity Lutheran Church (60850 Brosterhous Road, Bend 97702)
Central Oregon Council on Aging (Meals on Wheels & Meal Sites)
Redmond Community Church (237 NW 9th St, Redmond 97756)
Need supplemental pet food assistance? Due to COVID-19 procedures, new clients are required to complete THIS FORM BEFORE receiving assistance at the Humane Society of Central Oregon. Email completed form to info@hsco.org. Once received, you will be called to set an appointment to receive supplemental pet food. Call 541.382.3537 for more information.
The HOPE Food Bank is located at the Humane Society of Central Oregon shelter (61170 SE 27th St, Bend, OR 97702).
Clients can receive supplemental pet food once a month at HSCO any time during normal business hours, Monday through Friday from 10am-530pm and Saturday 10am-5pm.
This pet food program is meant to supplement for your pet's monthly food. We do our best to provide supplemental food for each pet, but our resources change on a daily basis.
As a Spay and Neuter clinic, we strongly believe in spaying and neutering of pets to help control overpopulation and pet homelessness, as well as improve the health and behavior of pets. We are available to help people in need of spay or neuter assistance, and are happy to set up an appointment for our pet food assistance clients.
Pets are family too, and that's why we want to provide supplemental food for those in need. When pet owners are temporarily unable to keep their pets fed, the consequences may be greater than just an empty stomach. Pets may be surrendered to already overburdened shelters, and worst, some may be abandoned. Finding new homes for these pets can be difficult. Families may be torn apart simply because there's not enough money to buy pet food. HOPE Pet Food Bank is here to help keep people and pets together.
DONATE to Help keep people and pet together.
HOPE Food Bank relies on monetary and food donations to provide this vital service.
Please DONATE HERE to help people keep their pets. HOPE Food Bank can make a dollar go further with our buying power and purchase of full pallets of pet food.
Pet Food Donations are graciously accepted. Donate any brand cat or dog food, wet or dry. Open bags are accepted. Donation drop off locations:
Humane Society of Central Oregon (61170 SE 27th St, Bend 97702)
Bend Spay and Neuter Program (910 SE Wilson ste. A-1, Bend, 97702)
Our Locations
Newsletter
Sign up to get HSCO news and updates delivered straight to your inbox.