Pre and Post Surgery Information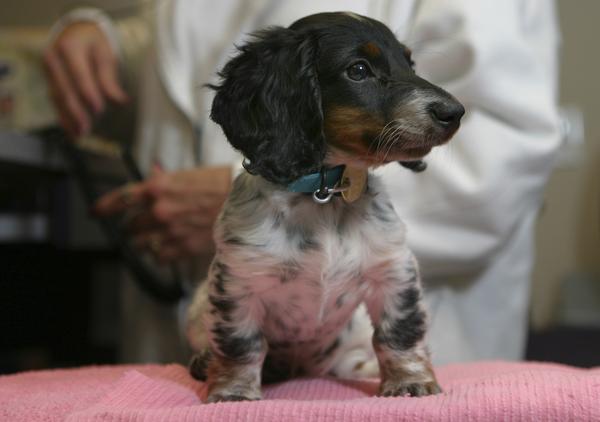 Pre-Surgical Instructions
For kittens under 4 months of age please feed them a small amount of food the morning of surgery. For older cats and dogs, no food after 9:00 pm the night before, they can have access to water anytime.
Please bring cats in a clean carrier with a clean towel inside and drop off at 8:00am. If you have more than one animal please separate them in as many carriers as possible.
Please bring dogs on a leash and leave them in the car while paperwork is filled out. Dogs need to arrive at the clinic at 7:30am.
After-Surgery Care
Your pet is recovering from anesthesia and surgery and needs your help! Please follow these instructions carefully to help ensure quick, safe healing for your pet.
If you feel there is an EMERGENCY please call 541-385-9110 to reach the Animal Emergency Center first and then call our clinic. If your pet is having complications after surgery, please call our clinic at 541-617-1010, if we are unavailable, please leave us a message and call the Animal Emergency Center for further instruction. Your pet's first re-check post surgery is FREE if you feel a re-check is necessary.
For information on feral cat after care, please call our clinic.
When You Get Home
Keep your pet separate from other pets and children in a dark, QUIET place. Cats should be kept in a small room such as a bathroom or closet overnight. Prepare the room in advance and let them out of their crate directly into the small room.
Feed about ¼ of their normal evening meal and offer water. Soft food is best if possible.
Take a quick look at your pet's incision so that you know what it looks like, that way you will be able to see how it is improving over the coming days.
THE MOST IMPORTANT THINGS:
Absolutely no licking of the incision area is allowed! If your pet is going to lick or begins to lick their incision, they need to wear an E-Collar (plastic cone) for 7-10 days after surgery. A pet can pull out stitches easily which can lead to hundreds of dollars spent at the vet repairing the damage.
Limit activity-no running, jumping, playing for 7-10 days. If your dog or cat is older than 5 years they may need a longer recovery period.
No swimming or bathing for at least 10 days post surgery, you may clean around the incision with a damp cloth if needed.
Check the incision daily for any excessive swelling, bleeding or drainage. Some hard swelling is normal, especially for active animals. A very small amount of drainage the night of and day after surgery is normal.
If your female dog was in heat and you have an intact male dog, DO NOT let him attempt to mate with her, this could cause serious damage to the female dog up to and including death.
The First Evening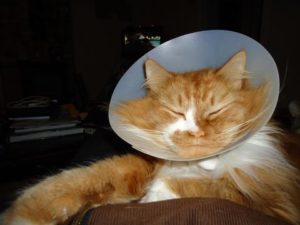 Your pet may have an anesthesia "hang-over". They may be grumpy, or very reactive to noise, quick motions, bright lights, etc. Keep them in a quiet, dark, warm place. Keep them separated from other pets and children, and general commotion.
* All patients receive pain medication which lasts for 10-12 hours after surgery, dogs will go home with 3 days of pain medication.
NEVER give your pet human medication, it could be fatal. Please call BSNP or check with your regular vet if you think your animal is in pain. Keep in mind that a minor degree of discomfort is normal and that some animals may not show signs of being in pain.
Some of the pain and anti-anxiety medications given today will also relax muscles (making them walk "funny"), and may cause constipation.
Keep your pet warm the whole night after surgery. They need to stay at 70-80 degrees, and should have padding or bedding as an option, because they may have difficulty retaining heat for 24 hours after surgery.
The Next Day
Your animal should come back to its normal eating and drinking habits in 24 hours. You may need to feed them something a little more exciting at first to get them to eat. Chicken broth over rice is a good choice for dogs.
Look at the incision. There may be some redness and a little bruising, but it shouldn't be excessively swollen, or have any discharge or bleeding.
Most pets will try to lick the area, but licking & chewing is NOT allowed! If you see this, get an e-collar (plastic cone) to prevent the animal from opening the incision. You can get one from Bend Spay & Neuter Clinic or most other vet clinics and pet stores. Make sure the cone sticks out about an inch and a half from the end of their nose or it will be ineffective.
Please Note: All sutures used for spay/neuter surgery will dissolve on their own, however they may take up to 6 months to fully dissolve! If you see remnants of suture near the incision site during this time that is normal.
FOR EMERGENCIES PLEASE CALL THE ANIMAL EMERGENCY CENTER AT 541-385-9110! Please also call Bend Spay and Neuter Program so that we are aware of any such situations at 541-617-1010. Remember, your first re-check is FREE if you feel one is necessary.
Our Locations
Bend Spay + Neuter Clinic:
910 SE Wilson, Ste A1
Bend, Oregon 97702
541/617-1010
Surgery:
Wednesday: 7:30am to 5:30pm
Thursday: 7:30am to 5:30pm
Friday: 7:30am to 5:30pm
Vaccine & Microchip Clinic:
Saturday: 9am-2pm
Closed Sunday-Tuesday & major holidays
HSCO Shelter:
61170 S.E. 27th St.
Bend, OR 97702
541/382-3537
Open M-F 10am-5:30pm
Saturday 10am-5pm
Closed Sundays & major holidays
HSCO Thrift Store:
61220 S. Highway 97
Bend, OR 97702
541/329-7637
Open Every Day. 10am-6pm
Donations Accepted:
Mon., Wed., Fri. 10am-5pm
Schedule a Furniture Pickup
Newsletter
Our Locations
Bend Spay & Neuter Clinic:
910 SE Wilson, Ste A1
Bend, Oregon 97702
541/617-1010
Surgery:
Wednesday: 7:30am to 5pm
Thursday: 7:30am to 5pm
Friday: 7:30am to 5pm
Wellness:
Saturday: 9am-2pm
Closed Sunday & Monday
HSCO Shelter:
61170 S.E. 27th St.
Bend, OR 97702
541/382-3537
Open M-F 10am-5:30pm
Saturday 10am-5pm
Closed Sundays & major holidays
HSCO Thrift Store:
61220 S. Highway 97
Bend, OR 97702
541/329-7637
Open M-Sat. 10am-7pm
Sunday 10am-6pm
Donations Accepted:
Mon.-Sat. 10am-6pm
Sunday 10am-5pm
Schedule a Furniture Pickup
Newsletter